Lucy Nobile received deep cuts to her cheek, neck and lips, and a broken jaw during the assault in Colchester at about 12.30am on 3 September.
James Booth, 29, of Hakewill Way in the town, missed Ms Nobile's jugular by 5mm (0.19in), Essex Police said.
Booth pleaded guilty to wounding with intent at Ipswich Crown Court and was sentenced to six years in prison.
Ms Nobile, 20, was out with friends and heading into the Hole in the Wall pub when she stepped in to stop Booth "hassling" a woman outside the venue, Essex Police said.
The man reacted in a hostile way, following Ms Nobile into the pub, making "an inappropriate gesture", which led to an altercation.
She was speaking to a bartender with her back turned when Booth smashed the glass in her face.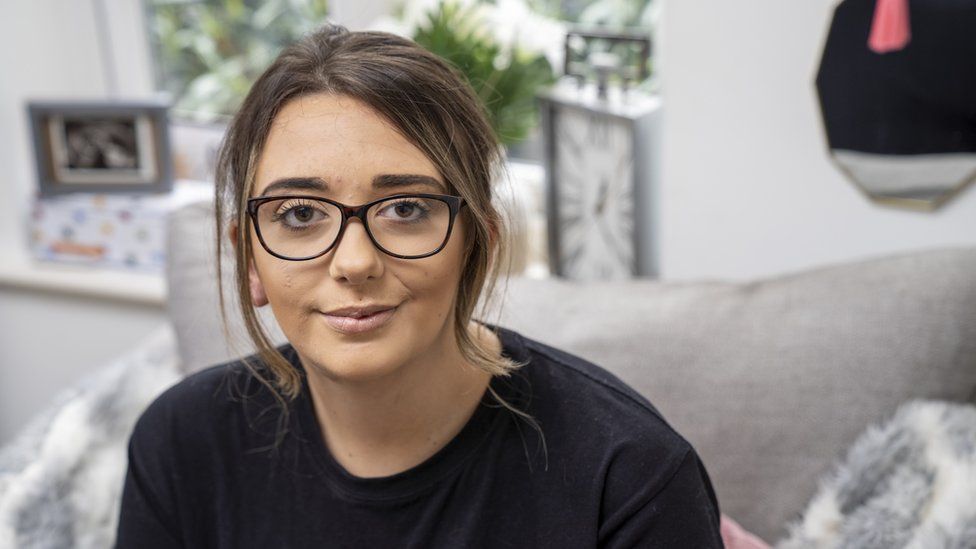 She said: "At first, I didn't realise what had happened. I went to put my hand to my face but I couldn't because I had glass hanging out of it.
"Then next thing I remember is waking up on the floor after passing out because of blood loss."
Ms Nobile received a broken jaw, a laceration to her face, found glass in her mouth and tongue, and her lip had to be stitched together following the "traumatic" attack that left her struggling physically and mentally, she told police.
"I'm left with these scars for the rest of my life. I need to embrace it because I can't hide them," she said.
Det Con Rob McWilliams said: "In a matter of 30 seconds, Lucy's life had changed forever.
"He may spend the next six years in prison, but… it was a stupid reaction and a terrible decision."
Booth was sentenced on 14 May.